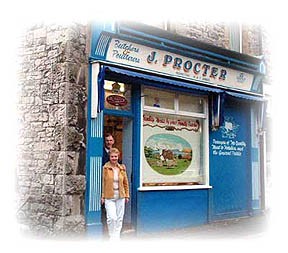 [ CLICK HERE ]
ARTICLE FEATURED IN THE GRANGE PAPER
A WELCOME TO OUR BRITISH FAMILY --
After many years of "In the Kitchen with Spanek" shows on the QVC in England we have had the chance to develop quite a family of Spanek Vertical Roaster enthusiasts. One such nice fellow is Mike Barber and his wife Jill, who own a lovely Butcher Shop in Grange over Sands in Northern England.
" The Spanek Vertical Roaster has made us into super cooks! We can't fail to impress when using it -- so, We never cook a chicken by any other method. We have used one for over 7 years and all our dinner guests can't believe chicken can taste so juicy. We love it so much we now import it! "

So my friends -- if you are looking to get a Spanek Roaster and/or some Spanek Magic Seasoning in a hurry, give the Barbers a call. They have stock in our products and are giving the English Kingdom "a reason to season".
Thank you, Barber Family! We appreciate you sharing our products and spreading the word amongst your piers.
-- The Spaneks