Guy Buffet's
"Burgundy – A Celebration of Life"
Celebrate The Wine Harvest
Treat Your Friend, Family, or Client to This Image
Guy Buffet's "Burgundy" will compliment any wine cellar, home, chateau or office, especially if you love wine. Truly a classic image.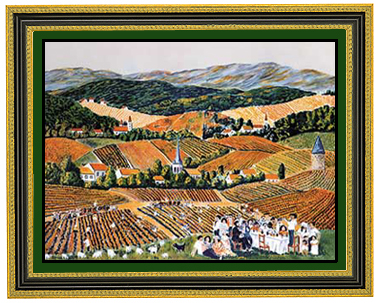 Click to enlarge
Image size: 24 inches by 31 inches
Lithograph Edition of 350 -- signed and numbered.
Includes Certificate of Authenticity.

Final Edition Release
Special Pricing to Close Out Edition
$1,444.00
(
limited time
)
In Vino Veritas — In Wine the Truth
Celebrate the Harvest for years to come with Guy Buffet's classic image. We liked it so much we purchased the entire lithograph edition over 15 years ago ... it will accent any library, dining room, living room, or wine cellar. You collected and cellared those wines from all the harvests through the years. Enjoy the fruits of the vine.
This entire lithograph edition was acquired in 1991 during a Spanek Enterprises marketing exclusive with Guy Buffet. It cannot be found in art galleries. The last signed, numbered prints are now being finally released to close out the edition.
Guy Buffet's image depicts the grandeur of the Burgundy wine region. Fine wines of the Burgundy region are always enjoyed and celebrated at harvest time with a Bacchic feast set in the countryside ; this is the tradition of the true French bon vivant. Every level of viticulture is appreciated.
According to the Napoleonic Code, upon the death of a parent the children would inherit the land and would equally divide it, and so you may find many different proprietors of the same vineyard, each tending to their own specific rows.
The artist Guy Buffet captures the magnificence of the terrain and the vibrant French culture in this image. This truly classic Burgundy lithograph is a breathtaking celebration of life, family and friendship.
This image has found a home with some of the world's most famous chefs, sommeliers, and restaurants, as well as the top wine cellars of the world. The edition has been exclusively distributed through the Spanek family's travels and friendships over the years since 1992.
The Spanek organization is now raising funds for a new art project and is going to release the last of the images at a reduced price through the summer.



Give us a call if you're a connoisseur of fine wine and enjoy the celebration of the harvest — take advantage of this special limited edition offer. It's an original signed and numbered lithograph by Guy Buffet — a treasure in any home, wine cellar, or office. Perfect for a wine buff!

And its at half the regular retail price for the first time since its original creation ... Ask for Denis or Shirley Spanek at 1-408-446-3000.