We are not Art Brokers or dealers. We dabble only in selective pieces that we use in our collections. Look for our special features and travel with us as we tour the world with our various artist friends and discover different regions of the world.

Our art tips club is a home base for people and friends that appreciate the artist we have enjoyed so they can get insurance value quotes, sale or resale's to one another in this over complicated world of ours. Life should be simpler. Most values are done by size of painting, artist and composition complexity. Size of limited edition and whether the image is sold out or not.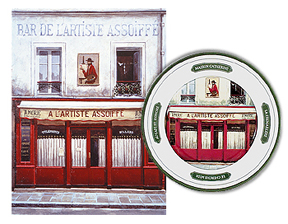 Andre Renoux -- From Oil to Serigraph to Plate

So what ever your need is, big or small - whether you are a novice entrepreneur, artist or just have a good idea, or just wish to talk to one of our personal specialists -- send us an e-mail. Write us a little note at Info@spanek.com. We'll be happy to listen, help and try to steer you in the right direction.

I asked a master chef, Maurice Cazalis many years ago, what do I owe you for all this help with recipes, courage , support, encouragement you given me over the last few years. He said," Denis, once you sell millions of these vertical roasters in the world and you've made your Mom's dream come true, don't forget to help the next guy."

So folks enjoy our Spanek World, as it continues to grow. We thank all the wonderful people that have interfaced with us over the years and we look forward to meeting all of you that we have yet to meet. If we can help you, we'd be pleased!

Thanks for visiting and enjoy our ever growing web-site.
The Spaneks