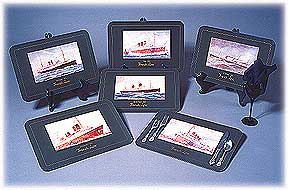 Click on picture to view in detail
The French Line -- Les Grands Paquebots
. . . . . . . . . . . . . . . . . . . . . . . .
The Story: Back in 1990 we were contacted by a marvelous lady, Thelma Lager, a true marketing person located in Los Angeles, California. She explained that she represented the French Line Transit Company from France. This was the company who created the famous ocean liners, Paquebots, since 1891. " Mr. Spanek, we love the André Renoux placemat and coaster collections you've created of Paris. Is there any chance of capturing your interest in doing a project for my French Line folks? Our French Line company would like to capture and revisit all our famous ocean liners we built over the years in one classic collection!

The Paquebots were La Tauraine, 1891, France, 1912, Paris, 1921, De Grasse, 1924, Normandie, 1935, and Ile De France, 1949.
Each day on board was a celebration transporting passengers perfumed and dressed by the best French designers. The French Line taught the "French Way of Life", luxury, art, and voluptuousness - deliciously. Gastronomy was the order of the day.
L'Art Pour La Table division was proud to help create this collection in time and it was a true privilege working with such a class organization and wonderful lady.