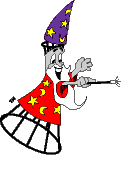 SPANEK VERTICAL CHICKEN & DUCK ROASTER
A MUST for every kitchen . . . the basic survival kit!
Vertical chicken is sooooooo easy to prepare giving
guaranteed juicy, tender, flavorful results.
You can't go wrong!
For our complete roaster kit, click here!
Also fits duck, and great for small capons and pheasants as well! Check out how to roast the best duck you've ever tasted in this little mini-movie!

Available in:
Chrome (Restaurant) Finish
Black Non-Stick Finish

SPANEK VERTICAL GAME HEN ROASTERS
TWO for a romantic dinner -- FOUR or more to entertain!
Tender, succulent and they make an impressive
show when entertaining. They all fit in one pan
and are easy to prepare!

Set of Two

Available in:
Chrome (Restaurant) Finish
Black Non-Stick Finish

SPANEK VERTICAL TURKEY ROASTER
YES, it does fit in your oven ... the bird sits down!
Here's the secret!
Best of all -- it cooks in HALF the time. Great for BBQ.
Fits up to a 20-lb. turkey, but check this out: Two birds x 15 pounds equals 30 pounds of meat ... 2 drumsticks and twice the dark meat! Here's how!

Also fits goose — get fantastic results with our special tip-sheet!

Available in:
Chrome (Restaurant) Finish
Black Non-Stick Finish

SPANEK VERTICHOKE ™ VEGGIE RACK
Once you get it . . . you will never forget it!
A healthier and quicker way to steam your artichokes,
Vertichoke also works well with broccoli, cauliflour ...
the sky's the limit! Roast your potatoes
next to your Vertical Chicken. Invented for one of
France's Master Chefs.




Set of 4

Or ... "TRY-ME!" — Add two chrome finish Veggie Racks to any Vertical Roaster order for just $8.95!



Available in:
Chrome (Restaurant) Finish
Black Non-Stick FinishSorry, out of stock



OUR FAVORITE ROAST / HAM RACK
Reversible and collapsible ... for perfect results!
Heat, glaze and present your ham using this rack.
Works with all varieties of roasts!
Reverse the rack to cook whole or half hams too -- great for spiral-sliced.

Available in:
Chrome (Restaurant) Finish

TRY-ME! — Add a Roast Rack to any Vertical Roaster order for just $11.95!