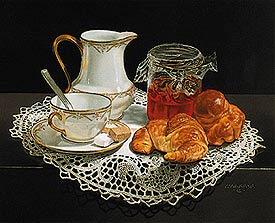 Le bon moment by Pierre Barraya
As our relationship grew over the years, so did Pierre's multi-faceted talents. A new dimension in still life now emerged in his works as Barraya began to capture assemblies of table top such as decanters, breads, cheeses, fruits and wines with his unique flair.
The breads themselves were almost tangible as were the delectable grapes and cheeses.