Gaylord's 20th century influences include the works of Picasso, Tamayo, Aurbach and Hans Hoffman. He has traveled throughout Mongolia, Pakistan, Iran and the Amazon basin. Influences of African, Asian and South American Indian art can be seen in Soli's style of painting. Gaylord's fusion of primitive art and culture with his 20th century interests has resulted in artwork that contains certain "elemental" qualities --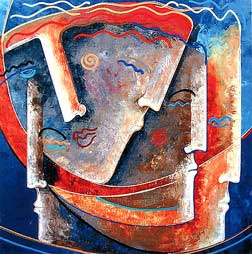 The Faces of Janus by Gaylord Soli
Qualities derived from his contact with rudimentary cultures and the direct relationship such cultures have with natural elements. Dependence upon fire, water, soil, air and life itself is much more evident in these cultures than in sophisticated environments. The presence of such direct contact with the elements has left its mark on Gaylord's work.
These influences can be seen in the colorful palate Soli uses -- terra cotta, greens, reds, azure blue, ceremonial gold, bronze, and so on. He layers, scribes and textures his canvases in kinship with early artistic and organic processes.

" Color is a primary focus in my work. Each shade has a quality that
must be explored for its own distinct beauty before being joined into a
larger composition, in the same way individual notes are the building blocks
of a symphony. It is my responsibility as an artist to preserve what comes
out of that meeting, much as a composer preserves on paper the sound of
his music. It is in the finding, organizing and arranging of color
that beauty, freshness and meaning come together."