memories of andré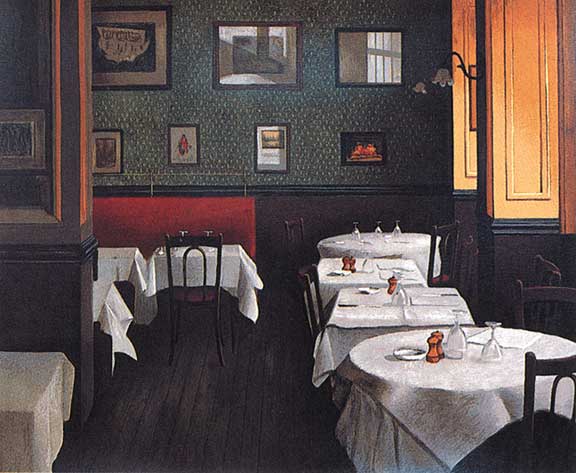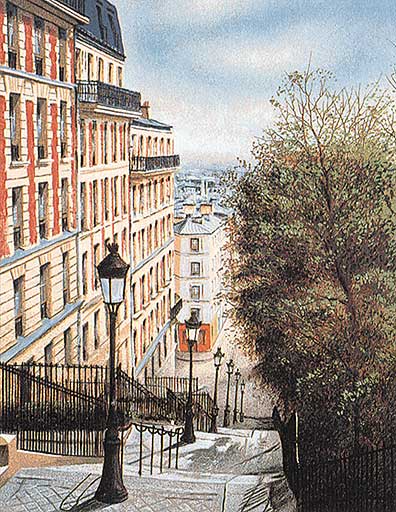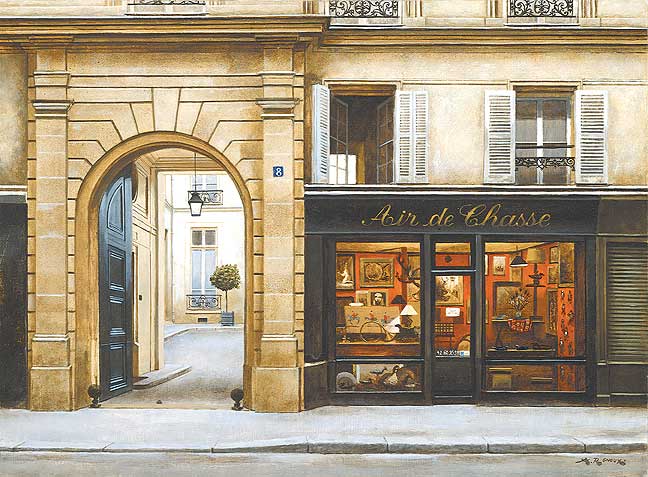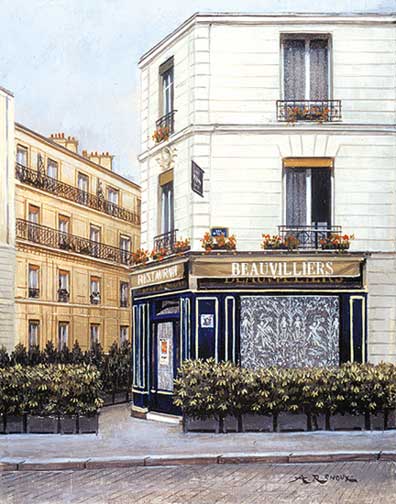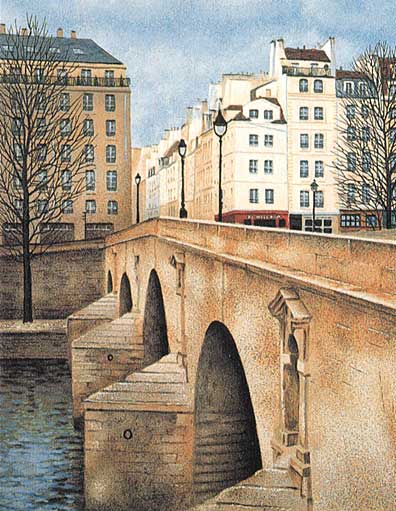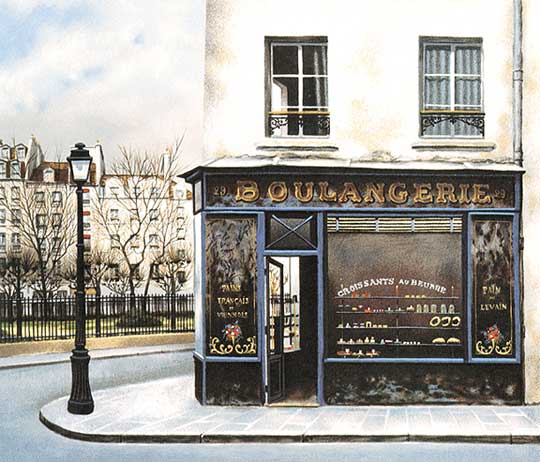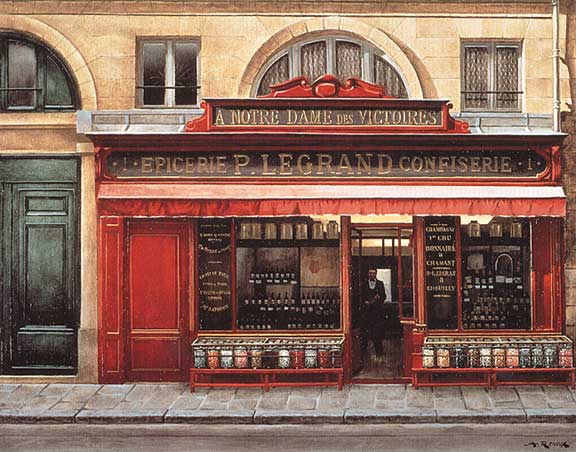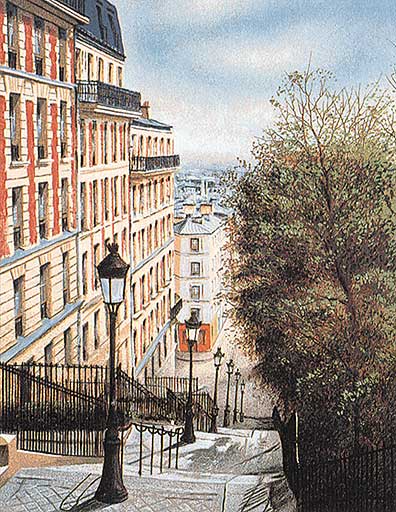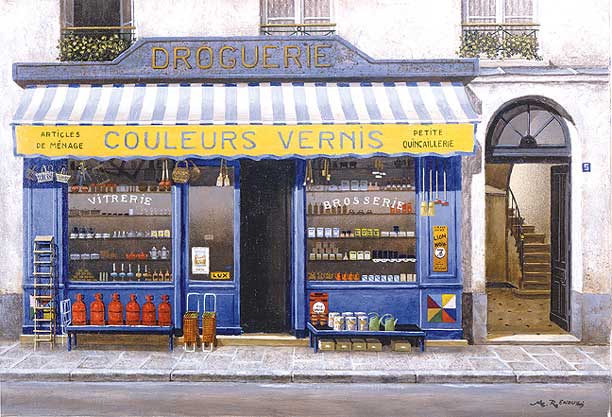 Paris lost one of its true sons on January 13th, 2002.
André Renoux, painter-poet, passed away at age 62 in Paris, France. He is survived by his wife Hélenè Renoux, his three daughters, 7 grandchildren, and a world of friends.
Regarded as the most credentialed 20th century Parisian Urban artist, Renoux became the godfather of artists in his time. Renoux made Paris his own by capturing and protecting the sounds, smells, tastes and textures of the City Of Lights in his own unique expression of brush to canvas. Highly respected in Europe, Renoux is truly one of France's national treasures. He has now joined the gallery of great artists of the ages. As time goes on, he will be remembered as the artist who captured Paris in the 20th century.
I initially became fascinated with André's work through my gourmet products business. When I first met André he said to me, 'There's no wonder why our paths have indeed crossed. Fine food, Finds, Fine Wine, Finds, Fine Music, Fine Art and Fine Friends.' He was right: We became "Fine Friends".
As the years moved forward, I was fortunate in discovering many true friends on this unique path blending both values and expressions of good taste. His Prophecy was correct.
Born in Paris in 1946, I immigrated to the United States at age five. I briefly returned to Paris in my teens, and years later, due to my gourmet business, I began visiting several times a year. Hemingway once wrote, 'If you experience Paris as a young man in early life, Paris will be with you the rest of your life.' Paris has a way of doing that to people. You have to discover the magic on your own. And, just as André Renoux did, I too made Paris my own. He painted it. I studied, cherished and collected it!
Every trip to Paris that followed was one where I would meet with André. I had the personal opportunity to bring a little bit of Paris back to California through the lithographs and paintings that he created. I walked the bistros (cafés), magasins (shops), the river walks, the parks, the stairs of the Montmartre, continually awed by all the secret little doorways and back streets. I discovered Paris through the body and soul of André Renoux.
Years later, Paris became particularly special to my family as well, as they each experienced Paris in their own individual way. I don't think my son, Sean, will ever forget the "Festival de Music". At twelve years of age, Sean thought France was a country where people only played music in the streets, partied all night long and ate ice cream garnished with sparklers atop. Every time we landed in Paris there was some sort of celebration happening. André always knew where the parties were and it wasn't long before we too were part of the gala event. André enchanted us. He shared his Paris with his fiends, whereby you became one with the city. I thank him for that gift.
This magic will happen to you too, as you gaze into one of André's paintings. Renoux paints the surrounding mood of the street as well as the buildings with a hollowness that captures the very soul of the city. I once asked him, 'How is it you don't put people in your paintings?' He responded with, 'You must envision them yourself. People come and go. I am more compelled to preserve the antiquity of this beguiling city. I choose not to depict Paris as a tourist, but rather to create works that are a tribute to this incomparable city.' This indeed was André Renoux's legacy. His paintings enable us to walk the streets as his companion in nostalgia, inviting you to experience the Paris he so deeply cherished in his heart.
There is one major aspect I am personally and sincerely appreciative of and that is the special friendship with André Renoux that was an integral part of my life, my wife's, and our three children's. We became close, very close. We never even had a formal contract between us. Just friendship! I'm very grateful for the confidence and trust he had in me. We only created contracts when we had third parties involved.
André Renoux unselfishly always made a particular effort to see that all my American friends understood Paris and the French. He once told me, 'Any society that exists for a thousand years or more tends to believe that it has all the answers and this sometimes explains the arrogance. Take it lightly! Place the people you wish in my paintings and remember only the good ones you have come across. Always give the French two chances. They eventually will come around.' I now feel like I have studied under a master for twenty years. Every painting had a purpose behind its creation and a reason why Renoux chose to capture its story. As there was purpose to his paintings, there was organization to his life. Everything had order. To Renoux it needed to be that way.
Through series after series, and visit after visit to Paris, we always had fun. We enjoyed London, as well as other impressive cities together. My reflections recall New York, Chicago, and San Francisco for expositions, coupled with André receiving a key to the city in Savannah, Georgia.
Earlier last year I again found myself in Paris. André had called and said, 'It's a beautiful day and the flowers are popping at the Bagatelle Gardens. Let's take my sister-in-law' — she had just lost her husband — 'for a walk in the fresh air.' So Hélenè, her sister, André and I strolled the park. As the ladies were ahead of us, André said, 'Death is indeed hard on the living. Maybe when we die, we'll come back as flowers or birds and have a less complicated life.' Then he pointed to some beautiful flowers, and said, 'Look at those beautiful colors.'
So now we have to walk the Bagatelle Gardens without André. But, André left us a tremendous legacy for our continued pleasure. He left a treasure of original paintings, serigraphs, and images for the world to remember. It is time for him now to be a part of the flowers and birds. André knew he was going to leave us. He had a chance to write his final music, say his good-byes and leave his organized instructions.
'Don't ever look for me when it is overcast. Only look in the sunshine. That's when you will find me. I'll always be with you.' And forever he will be with all of us. I know we'll be looking for him whenever the sun shines.
A Bientot, Mon Ami,
Denis Spanek
Shirley Spanek

January, 2002
Copyright © Spanek, Inc.
1-408-446-3000