guy buffet
About the Artist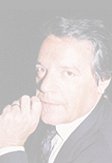 Guy Buffet's work is well-known in both advertising and fine-art contexts. His portraits of waiters (for example, "Les Garçons" and "The Charge of the Flower Bottle Brigade") and restaurant staff are famous, as are his impressionist scenes of his native Paris and his adopted homes of Hawaii and California. He is regarded as one of the living masters of French contemporary impressionism. Guy Buffet shares wall space with Toulouse Lautrec at the Perrier-Jouet Museum in Paris and has been their official artist as well.
Showing unique fascination for color, Buffet's canvas seems to know no boundaries. He takes the casual observer into his work both visually and emotionally. His intention is to create a stopover point where an individual can rediscover the beauty and gaiety which life has to offer.
I take you into my world like a guest into my home. I want you to be comfortable, relaxed, happy; to forget about problems and sorrows.