m i n i m o v i e s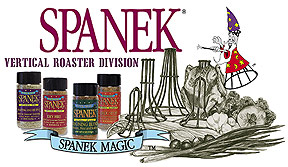 Mini-movies — It's This Easy To Cook With The Spanek Vertical Roaster™!
We have prepared a series of mini-movies that show you the fine points of cooking with the Spanek Vertical Roaster™. We hope you find them informative and entertaining. Let us know if you liked them and if you'd like to see more.
With our thanks to Merle Ellis ("The Butcher") — a Spanek Vertical Roaster™ partner, advocate, and friend — for joining us on all our vertical adventures over the years. Enjoy Merle's presence in these mini-movies!
Copyright © Spanek, Inc.
1-408-446-3000