o u r h i s t o r y
The Origin of Vertical Roasting
The Chinese discovered the magic of vertical roasting over 2,000 years ago. Recognizing the role gravity could play in perfecting their traditional roasting practices, they mounted their suckling pigs, ducks and other poultry in a vertical, hanging position. As the grease flowed downward, a highly flavorful, leaner, juicier, crispier bird was produced, much like the Peking duck we enjoy today.
In the Middle Ages, European cooks began skewering meat and fowl on arrows, rods or sticks and spit roasting them over open pits of burning wood, turning the spit like a modern rotisserie does. When the rods became fiery hot, the inside of the meat was seared, trapping the juices within the meat. (This is the origin of the phrase "done to a turn," meaning "cooked to absolute perfection" — not one turn less or one turn more on the spit.)
Modern European chefs have tried innovative approaches to spit roasting in their kitchens. By inserting heated metal spoons into the cavity of poultry, they recreated the essence of the rotisserie by cooking from the "inside out" and the "outside in." The creation of the vertical roaster opened up new culinary doors for professional and home chefs. A combination of both the upright method and spit roasting, the vertical roster featured the benefits of both methods, and introduced an innovative approach to the preparation of poultry. Today, chefs experiment with creative roasting techniques, such as inserting flavorful herbs and spices beneath the skin of poultry, and delicious recipes have been developed to further enhance cooking with vertical roasters.
The Spanek Family and the Vertical Chicken Roaster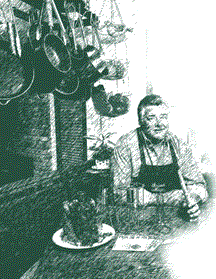 Denis Spanek was 6 years old when he immigrated with his family to Chicago from Paris in 1951. His parents, George and Anna, both of Czechoslovakian descent, had lived in Paris for nearly 30 years. Anna was a Cordon Bleu chef de cuisine with a fresh and innovative approach to cooking, and when the family arrived in the United States, she was dismayed at the quality of produce and meats available at the supermarkets, and a nation intrigued with processed and frozen foods. Attempting to produce tender, flavorful chicken and duck, she would drain the juices from the bag that the poultry came in, saving them to use during roasting. "The fresh taste and juiciness are just not there!" she would exclaim. One night George playfully responded, "If you don't like the way the chicken tastes, change it. We're not moving back to France just for fresh chicken flavor!"
But George's joke had given Anna an idea. For years she had attempted to sear the inside of her poultry by placing spoons in the bird's inner cavity to cook it from the inside. Now she challenged George to make an "Eiffel Tower" out of wire so she could stand the bird up during cooking, while searing the inside to seal in the natural juices.
Over the next few months George and Anna designed and produced the first models of the Spanek Vertical Roaster™, and Anna began to use them in her cooking and refine the design. When the family moved to California, in 1961, George and Anna opened a family-style French restaurant, Chez-Anna, on Broadway in the town of Burlingame. Here Anna continually delighted patrons with the tenderness and flavor of poultry prepared using the Spanek Vertical Roaster.
Denis worked in the restaurant for 4 years, but after seeing the hours and work involved in running a restaurant, he decided against going to culinary school. Attending college at San Jose State, Denis graduated with degrees in Business, Marketing and Real Estate in 1969, and entered the real estate business in 1970.
Quickly he became known as "that crazy real estate guy who cooks chicken vertically for people." He would often arrive with a chicken and the family roaster to prepare a special dinner for new homeowners. One of his clients exclaimed over the flavor and succulence of his Spanek-style poultry, and after hearing the explanation and history of the vertical roaster, urged Denis to seek out a patent.
Denis was enjoying a highly successful real estate career, and when his father challenged him to market the roaster, he did not readily accept. However, when he started getting as many calls for roasters as houses, he realized it was time to direct his energy elsewhere. Denis took a sabbatical from the real estate business and applied for a patent on the vertical roaster. Speeded by the government's interest in energy-saving devices, he received a patent 6 months after filing, and thus launched Spanek, Inc. in 1976, with his brother George, Jr. as his partner.The two brothers set out to show the world this revolutionary approach to preparing juicier, more flavorful chicken and duck.
The challenge proved enormous! The Spanek Vertical Roaster™ was demonstrated to various chefs, food experts, cooking editors, trade shows and department stores from coast to coast — and everybody laughed, and nobody listened. Then gradually, as food experts across the country tasted the chicken and duck roasted the Spanek way, things began to change. And one person at a time, critics became converts. Chefs began to write letters saying how much they liked the vertical roaster, and cooking schools began to promote its use. A stellar moment occurred when a Spanek chef demonstrated the time-saving roaster on the Dinah Shore Show. With ease, he carved the chicken with a carrot instead of a knife. Viewers reacted in amazement and Dinah raved about the incredible flavor.
Buoyed by the response, Denis forged ahead, designing a large roaster to accommodate turkey, and smaller ones for game hens, pheasants, partridge, quail and squab. Working with a group of chefs in California, he developed a top ring to support 8 vertically-positioned skewers for roasting chops, kabobs, sausage, steaks and other cuts of meat. The vertical position and open-air roasting eliminated the need for any additional fats or oils, and resulted in tender, flavorful meat that was healthier and lower in fat. Denis then added a basting tray that could be placed on top of the roaster for automatic glazing and basting during cooking.
Working with a team of chefs, Denis brought out cookbooks featuring unique recipes and ideas for each roaster. Initial contributing consultants for the cookbooks included one of San Francisco's finest chefs, Monsieur Paul DuFour, and Nancy Parker, of the Nancy Parker Cooking School. In more recent years, Spanek has drawn on the culinary expertise of American food writer and cookbook author, Lynne Kasper, and Judith Hines, a food consultant, cooking instructor and author. New recipe collections are always in the works!
Since 1979, over 10 million roasters have been sold. Named one of the Top Ten Most Innovative Products at the 1981 Paris Gourmet Show, the Spanek Vertical Roaster™ is featured in the vertical roasting category of the Gourmet Retailer. The roaster's success has spawned a variety of imitation products, but because these are made with inferior materials, they miss capturing the secret of the Spanek original and so they fail to produce the same mouth-watering results.
The philosophy of "Spanek Magic" is simple. Cooking the Spanek way creates the healthiest, most delicious poultry, meat, fish or vegetables ever.
Denis has continued to add a variety of tools, seasonings, foods and accessories designed to enhance and enliven cooking, dining and entertaining. These products offer value, innovation, and above all, excitement.
You can often catch a Spanek demonstration from your living room on such channels as QVC-HSN and Valuevision, as well as internationally on QVC H.O.T. and M6. Denis and his Spanek Vertical Roaster™ have been featured on Amazing Discoveries, and continue to be written up in various magazines and newspapers.
When he is not making appearances at food shows across the country, Denis can often be found personally returning calls from the ever-increasing Spanek family of customers with vertical roasting questions, recipes, and ideas.
Copyright © Spanek, Inc.
1-408-446-3000