c o o k i n g q & a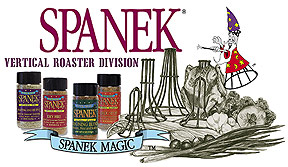 Cooking With The Spanek Vertical Roaster™
How to get the best results when you "Go Vertical!"
To get the best results with the Spanek Vertical Roaster™, preheat your oven for at least fifteen minutes to 450 degrees Fahrenheit (appx. 232 degrees Celsius).
Sure — no problem! Also, check out our instructional mini-movies ... and feel free to call us at 1-408-446-3000 if you have any questions.
A preheated oven sears the meat and quickly closes all the pores, trapping the natural juices that keep the meat tender. The Spanek Vertical Roaster™ sears the inside as well as the outside of the bird — that's Spanek Magic™! Preheat your oven to 450° F (232° C) for at least fifteen minutes before putting the bird in. The most common mistake we see people make is not to preheat the oven!
The turkey roaster is just 10 " tall. The trick to fitting any size turkey, up to 20 lbs., is here:
| | |
| --- | --- |
| Weight | How to fit |
| 8-12 lbs | No need to cut off the tail. Just push the upper ring to pop out of the neck area. |
| 12-14 lbs | Cut off the tail and about 1" to create a flat surface. |
| 14-16 lbs | Cut off the tail and about 2" to create a flat surface. |
| 16-18 lbs | Cut off the tail and about 3" to create a flat surface. |
| 18-20 lbs | Cut off the tail and about 3.5" to create a flat surface. |
Here's a video showing how to prepare the best turkey you ever tasted...
The trick here is to get away from the idea that if you have 20 people coming for dinner, you'll need a 24-pound. turkey.
Any turkey over 16 pounds, first of all, is a Tom bird. It doesn't carry a lot of juice, and it takes forever to cook. (And is the biggest reason why people only do this once a year.)
Hens up to 15 or 16 pounds carry the most amount of juice ... so get two 15-pounders when you need more meat, and you'll end up with four legs, four wings, four breasts — and it cooks in half the time!
(Cooks in two hours and ten minutes — perfect for social events: BBQ parties Super Bowls..... group events.... fund raisers..... Simple and easy!)
Absolutely! But only the upper neck area. Remember what the wire does: it sears the natural juice into your turkey and not the stuffing...
Yes! It is so quick and easy when you're cooking from inside out and outside in with the wires! Just watch the video; you'll see what we mean.
To begin with, there's a chef's trick you can use while you're preparing the bird for cooking: Rub some paprika on the lower part of the bird. This will attract heat and enhance the browning color. But the real issue here is that heat rises, as everyone knows, and many ovens produce more heat in the upper area. (This is more typical of gas ovens than electric ones.) If your bird seems to be browning too quickly on top, at about halfway through cooking, place aluminum foil over the wings and top of the bird. (Make a hole in the foil so that the top of the roaster comes through.) Another thing you should do once in a while is test your oven with a good thermometer to make sure that "400 degrees" really is 400 degrees. Over a period of time, the heating element in an electric oven wears out and the pilot in a gas oven begins to need adjustment.
It's super-easy! Here's a page of instructions, and we also have mini-movies showing every step, for both chicken and turkey!
Yes, you can use the roaster in the microwave by placing it in a RubberMaid-type pan with sides that go up at least 1½ inches. Microwaves go directly through meat, so in our experience you don't get the same taste and flavor that you would from a regular oven. We sometimes cook our birds the regular way, but cut the time by 10 to 12 minutes and let the kids finish cooking it in the microwave later in the day. Reheat without the rack.
You can use the Spanek Vertical Roaster™ in convection ovens too. The cooking time is going to be less than in a regular oven, so be sure to check the manufacturer's times and instructions.
With my 22-inch Weber Kettle, I use 48 to 50 charcoal briquets for 13 to 16-lb turkeys. Here's the trick: Simply remove the grill, place 2 or 3 clay bricks where the charcoal normally goes, and place the coals around the bricks. The bricks create a nice platform for your pan. You can even line the inner area of your barbeque with aluminum foil from the top to where the charcoal goes. This helps reflect the heat.
Soak smoking chips in different fruit juices rather than plain water. Once the coals heat up, set your poultry on the bricks, set the vents to half open and close the lid. DO NOT keep opening the lid, as valuable heat will be lost. Remember that charcoal barbeques take a little more time than your regular oven. Gas barbeques are pretty close to accurate with your oven temperature. Add extra briquets for higher altitudes.
Check out our mini-movies on vertical BBQing for a closer look!
And if you have a clay cooker, a Puma, a Cajun slow cooker ...? No problem! You can use the Spanek Vertical Roaster™ on any BBQ. Gas or electric, Cajun Smokers, Kamados — even Texas Barrel BBQs!
The three basic frames are designed for the three sizes of poultry (game hen, chicken or duck, and turkey or goose) and we also have quail roasters for hunters. But you asked about other meats besides poultry. We've developed our Forever Lasting Skewers and our Roaster Conversion Kit to give you the opportunity to try any number of wonderful recipes using everything from pork chops to sausages to shish-kabobs. And our Vertichoke rack lets you "Go Vertical" with artichokes too!
Years ago, we developed a basting/glazing tray to put little pats of butter on top of the bird to melt down slowly. But really, because the Spanek Vertical Roaster™ sears the bird's natural juices in, you get a super-tender bird and you don't need to baste. We turned the tray into a glazing tray. Freeze your favorite sauces in ice cube trays and store them in zip lock bags for future use.
Why is the Vertichoke rack such a good way to cook artichokes?
The Vertichoke holds the artichoke in an upside-down position, allowing the flavored stock in the pan to steam upwards, gently steaming the inner portion of the choke. The artichokes never touch the water, thus retaining essential vitamins. The rack is also reversible allowing the artichokes to be stuffed with your favorite ingredients.
Here are detailed instructions! Enjoy!
Okay ... I confess. Yep, that's me — Denis Spanek — cooking one of my favorite veggies in my kitchen at home.
For 1-inch chops, always skewer with the fat of the chop up. Season with Spanek Seasoning Blend, as this will flavor and brown your chops, making them crispy. Then simply skewer half-inch carrot chunks at the bottom to secure the chops or kabobs. Cook for 30 minutes at 400 degrees, and don't forget the liquid at the bottom of the pan. Chops can also be coated with bread crumbs, as they have enough natural grease for the crumbs to adhere to. Cooked on skewers, the surplus fat drips away leaving the chops moist and crispy, not greasy. Add 10 minutes for each additional half inch of meat.
Here's the main part of a letter I recently wrote to one of our old friends on this very subject:
Making demi-glace is a study in time.
Time spent chopping and browning the bones and carcasses you froze and saved the last time you made chicken; time spent washing and chopping carrots, onion, celery, parsley, and any other of your favorite "stock" vegetables: time spent preparing a top-notch chicken stock.
The trick to a good demi-glace is unfreezing the drippings you stored the last time, "Gravy Straining" (separating the fat from the good juices), adding them to your best chicken stock, a long slow simmering to reduce, then thickening and seasoning to taste. Most cookbooks tell you how to get there (and every one has its own tips and tricks — such as adding clean onion skins to enhance the color, for example — which makes it at times even more confusing). And all of them tell you, it takes time.
After years of this, we found a shortcut that we liked so much we decided to offer it to our friends and customers. (To be exact, my wife Shirley found it. My role was Chief Assistant Taste-tester.) It's a company called Silent Chef that makes top-quality concentrated demi-glaces that you simply add chicken broth or even water to, and hit the ground running. Add your Gravy-Strained drippings, diced mushrooms (and whatever else you like), and — Presto! You have a homerun!
The Silent Chef demi-glaces are prepared in the traditional way from the best bones, meats, and vegetables. They roast and cook them, then slowly reduce them until they're about as thick as honey. All you need to do is add water or stock. You'll get raves about the flavor! And once you play around a little with them, you get to be really good at it.
So get your Chief Assistant Taste-tester next to you, pour a nice glass of wine for each of you, add a little of the wine to the gravy ...
... and enjoy!
We've had a lot of fun bringing our products to the world over the past 38 years.... it's up to the users now to social network these tips to family and friends. Thanks for your spreading the word. We are here for you.... hoping your friends find this helpful....ask us for a retailer near you.
With best wishes,
Denis Spanek
Copyright © Spanek, Inc.
1-408-446-3000