c o o k i n g q & a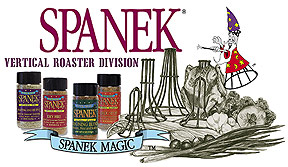 The Spanek Vertical Roaster™ — Guaranteed!
What about my guarantee on the roaster products?
The Spanek Vertical Roaster™ products and their parts are guaranteed for 5 years against any manufacturing defects or malfunction in material or workmanship. Spanek, Inc. will repair or replace your Spanek Vertical Roaster™ or the defective parts with new or factory serviced unit(s) at no cost to you for labor, materials or return transportation, provided that the Warranty Registration Card has been completed and sent within fifteen (15) days of purchase from an authorized dealer. In the event of a guarantee claim, contact the Spanek return department at 408-446-3000.
Copyright © Spanek, Inc.
1-408-446-3000