p r e p a r a t i o n q & a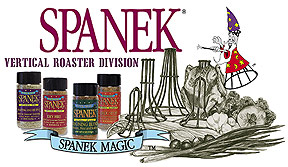 The Spanek Vertical Roaster™ — Preparation
Getting ready to cook with your Spanek Vertical Roaster™ . . .
Yes, even in small ovens. Even the Turkey roaster, our largest size, is only 10" tall. The Chicken/Duck roaster is 8" tall, and the small Game Hen roasters are just 6" tall. Most ovens have at least 12" to 14" between the lowest rack and the top broiler elements. If you can put a roasting pan with your roaster into your oven and slide it in and out — again, you only need 10", even for turkey — you're in business. (If you don't have a roaster yet, just measure the clearance — if you haven't got a tape-measure handy, you could estimate the clearance using a sheet of letter-size paper [11" high] or a standard #10 business envelope [9-½" wide].) The trick to vertical roasting is to cut off the tail of the bird and sit it down on the roaster. Watch our mini-movie and see how easily it's done. It'll be the best turkey you've ever made in your life — in half the time.
This is a great question! I went into some detail on it here, because really it demands more than a short answer.
For game hens, from 12 to 22 oz. birds will work best. Chicken and duck should be fine anywhere from 2.5 to 6 lbs, and turkey can be anywhere between 8 and 18 lbs.
There's not a French chef around who would recommend cooking a turkey larger than 18 lbs. Why? Because a bird weighing more than 18 lbs. is an older bird with tougher flesh. Instead of buying a larger bird, do two 15-lb turkeys facing each other in a single roasting pan. (This way you can have them done in just two and a half hours!)
Sure you can! Cut down the back of the bird, splitting the skin. With your thumb, slowly loosen the skin, working your way to the front. (It's like taking off a jacket backwards.) Season the bird and brush with caramel coloring, or sprinkle with paprika. This is a great time to use our Spanek Glaze & Marinade! Watch your cooking time, as a skinless bird will cook more quickly.
Please make sure to always thaw all kinds of poultry in the refrigerator! After handling raw poultry, immediately clean the working surface thoroughly. Hands should also be washed before touching other foods! If you purchase fresh poultry, refrigerate immediately.
Make sure your poultry is completely thawed. Game hens don't have to fit all the way down on the roaster, but chickens do. As for turkeys, it is very important that you see the top of the roaster exposed after mounting. Be sure that you have cut off the tail and if necessary, the neck bone. Then keep pushing — when the top ring comes up flush with the top of the neck opening, that's close enough.
Copyright © Spanek, Inc.
1-408-446-3000